Entreprise: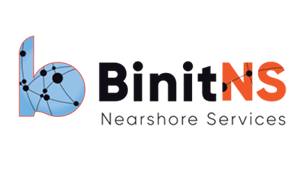 BINITNS
Secteur:
consulting / étude / stratégie
Taille:
Moins de 20 employés
Binit Nearshore Services est une société de Conseil et de Services dans le domaine de l'IT et du BPO métiers . Anciennement MISC fondée en 2008, société de conseil dans le domaine du Supply Chain et de l'IT, l'activité de l'entreprise est étendue en 2020 et MISC est devenue BinitNS.
Nous conseillons nos clients Européens sur leur stratégie dans nos domaines d'expertise en intervenant pour leur compte en Europe sur place ou à distance. Quand ils le souhaitent, nous les accompagnons dans l'installation d'équipes de proximité (Nearshore) en Tunisie.
Description de l'annonce:
Binit Nearshore Services (BinitNS) is a Consulting and Services company operating in the ITO and BPO areas. We advise our European Customers for their IT projects: From Business Process Digitalization to Infrastructure evolutions and Cloud migrations. Our expertise extends to the operational business processes, of the BPO.
We also help our clients set up their nearshore teams in Tunisia, as an extension to their European teams whether they create a local company when a critical size is possible or incubate those teams within BinitNS.
One of our clients, a provider of data and analytics in commodity markets, built a Data-as-a-Service solution to facilitate sustainable and efficient trade to meet the changing needs of our world. This solution aggregates data from hundreds of sources including radar and satellite imagery as well as logistics, governmental, shipping databases, and more.
In this context, we are hiring a Junior Data Engineer who thrives in a fast-paced environment and enjoys driving innovation through rapid prototyping and iterative development. You will build web scrapers that ingest data from a multitude of different sources including internal databases, internal and external APIs, and unstructured data from websites. You will also be involved in conceptualizing, building, and maintaining data pipelines from various storage backends and formats.
Your qualifications are:
Mandatory:
· Advanced working SQL knowledge
· Experience with industry-standard relational databases (Postgres) and database modeling.
· Experience in Python, and/or JVM languages.
· Self-driven, has a strong sense of ownership and can work and learn independently, whilst being a team player.
Nice to Have:
· Experience building and optimizing data pipelines and datasets in Airflow/Spark/Kafka/AWS Lambda to answer specific business questions.
· Experience in CQRS / Event Sourcing patterns.
· Solutions-oriented, and comfortable with working closely in the business domain.
· Can communicate effectively with distributed teams across multiple time zones.
If you are motivated by such a challenge and willing to work in Tunis within an international environment, we will be glad to see you join us.
Good working conditions and package
Starting Date: As soon as possible