Entreprise: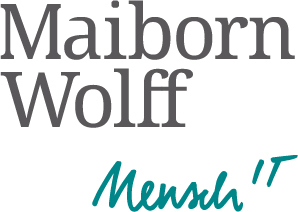 MAIBORNWOLFF
Secteur:
informatique / télécoms
Taille:
Entre 200 et 500 employés
MaibornWolff's success over the last 29 years stems from the ability to unite consultation with execution across every step of an IT project — from strategy consulting and early project phases through to software engineering, mobile engineering and test management. We inspire our customers and partners in multidisciplinary specializations including agile project management, DevOps and IT modernization, Blockchain, IoT and Salesforce projects. Renowned enterprises from every sector depend on these solutions, including global brands from major industries including, e.g. BMW, Daimler, DER Touristik, Deutsche Bahn, Lichtblick, Payback, SBB, Thomas Cook and VW.
Results are achieved by closely aligning consulting services, operational support, and end-to-end implementations with strategic business objectives. With staff in Munich, Augsburg, Frankfurt, and Berlin we have 380 employees who stand behind our core values: responsibility, excellence, inspiration, and passion.
The company was honored in 2017 for the eigth time running as one of the Best Workplaces in Germany by the Great Place to Work Institute. For the fifth year in a row, MaibornWolff also finished first among Germany's Best IT Employers.
Description de l'annonce:
Come to us and immerse yourself in a new world. Develop washing machines that can be controlled comfortably from the couch, flower pots that glow red when they need water, drones that look for the next free parking space, cars that talk to traffic lights to help you get faster. Sounds like something out of science fiction? Not to us!
MaibornWolff designs and develops individual, innovative and technically sophisticated software solutions. We implement systems for customers from different sectors who have different system landscapes. It is our objective to optimally analyze, identify and process our customers' requirements. We propose tailored solutions and develop either new systems or new processes that support and enhance their business – and all the while interconnecting their systems and allowing a smooth exchange of information.
We make smart things successful – and you can be part of it!We are looking for you, at the next possible date, as a Software Engineer IoT (m/f) for our office in Tunis. By the end of 2018 we would like to build up a team of 15 people – and you can be part of it.

Your passion
· Your heart beats faster when you think of electronics and software engineering in the cloud.
· You love to enhance everyday objects with software, to network them intelligently and open up completely new possibilities.
· You are a (highly) passionate hobbyist and like prototyping and implementing proofs-of-concept.
Your job as Software Engineer IoT
· Implementation of software solutions in agile teams
· Planning, design, implementation and testing of the various project modules
· Working with modern technologies to implement innovative solutions
· Help in defining software architectures
· Responsible for code quality
Your profile as Software Engineer IoT
· You have completed your bachelor's or master's degree, or a similar qualification, with good grades in computer science, information technology or a related field
· 2-5 years ofexperience in backend development, preferably with Spring Boot, Spring MVC.
· Excellent skills in Java SE/EE
· Experience with backend web development
· Experience working with REST APIs and microservices
· It is a plus if you have experience with Docker, GitLab-CI, OpenStack, Terraform, PostgreSQL, Hibernate
· Very good/ excellent skills in English and good skills in German (B1-B2) in speech and writing
· Team player that adapts easily to others and can also work well with little supervision
· You are curious and quickly get to grips with new technologies
Sounds like you? Please apply in English and include your CV