Entreprise: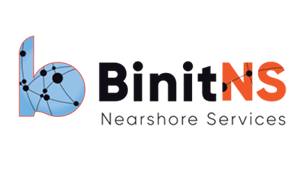 BINITNS
Secteur:
consulting / étude / stratégie
Taille:
Moins de 20 employés
Binit Nearshore Services est une société de Conseil et de Services dans le domaine de l'IT et du BPO métiers . Anciennement MISC fondée en 2008, société de conseil dans le domaine du Supply Chain et de l'IT, l'activité de l'entreprise est étendue en 2020 et MISC est devenue BinitNS.
Nous conseillons nos clients Européens sur leur stratégie dans nos domaines d'expertise en intervenant pour leur compte en Europe sur place ou à distance. Quand ils le souhaitent, nous les accompagnons dans l'installation d'équipes de proximité (Nearshore) en Tunisie.
Description de l'annonce:
Ref: S10
Working on a go to market plan for Binit CS and Binit NS. This is a high learning opportunity for a motivated top business school current student.
We advise our European clients in the IT field, supporting them with the transformation of their infrastructure, the choice of business software packages, the development of specific softwares, the Data and Business Intelligence development, and testing processes.
Our expertise extends to operational business processes in the areas of banking, insurance telecommunications, as well as in supply chain management. We support our clients in expanding their teams in a nearshore center in Tunisia.
Content:
• Develop a go to market plan for Binit Consulting Services in Europe and Binit Nearshore Services in Tunisia including:
Identifying targets to further grow the business. Those include small European and medium sized businesses (and young start ups with IT and Business Process Ops (BP O) needs.
Understanding targets' business needs to determine the potential for nearshoring in Tunisia.
Develop a plan for approaching potential targets including timeline, communication strategy etc.
• Enhance BinitNS communications and marketing materials including website and pitch deck, and create BinitCS ones:
Source and liaise with relevant contractors.
Further enhance website content.
Qualification Skills:
• Go getter mindset with a problem-solving appetite.
• Superior written and verb al communication skills in English (and French (highly preferred).
• Time management skills: the role will require quick pivoting among various priorities.
• Attention to detail.
• Ability to efficiently manage multiple relationships (with prospects, intermediaries, and other employees). Education Experience requirements
• Master's degree in Business Commerce from a top business school
• Experience in using Excel and Powerpoint
• English language full proficiency, French highly preferred