Entreprise: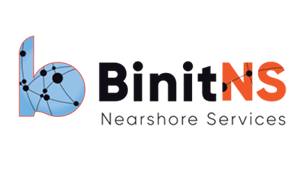 BINITNS
Secteur:
consulting / étude / stratégie
Taille:
Moins de 20 employés
Binit Nearshore Services est une société de Conseil et de Services dans le domaine de l'IT et du BPO métiers . Anciennement MISC fondée en 2008, société de conseil dans le domaine du Supply Chain et de l'IT, l'activité de l'entreprise est étendue en 2020 et MISC est devenue BinitNS.
Nous conseillons nos clients Européens sur leur stratégie dans nos domaines d'expertise en intervenant pour leur compte en Europe sur place ou à distance. Quand ils le souhaitent, nous les accompagnons dans l'installation d'équipes de proximité (Nearshore) en Tunisie.
Description de l'annonce:
Binit Nearshore Services is helping European companies setting up nearshore centers in Tunisia. In that context, we are advising Blauwtrust Groep starting its own subsidiary in the coming weeks.
Blauwtrust Groep provides high-quality financial services and products to the Dutch mortgage market. The company focuses on consumers as well as brokers and investors. Blauwtrust Groep consists of multiple operating companies – with more than eight hundred employees in total – that operate the entire value chain together, from management and administration to in-house advisory offices.
In January 2022, Blackfin Capital Partners became the majority shareholder of Blauwtrust Groep. Blackfin is a leading European PE investor specializing in financial services. With Blackfin's support, the newly appointed Blauwtrust management team is looking to build Blauwtrust Groep into a pan-European product and service provider in the mortgage market. That means the company focuses on organic growth, strategic transformations, and M&A.
Blauwtrust Groep sets up group-wide strategy, goals and parameters in order to give guidelines to the subsidiary companies and to serve them with the appropriate support in, amongst other things, Infrastructure Platform capacities, Software Development Lifecycle (SDLC) and support tools.
In this context, we are looking to hire an IT Security Officer who will be based in Tunis and will support teams seated in the Netherlands and in Tunis at a first stage.
As an ITSO you will:
· Perform Cyber ​​Security monitoring.
· Be a Point of Contact for our auditors (IT security audit, Regulatory audit)
· Animate the implementation of the action plans after the audits
· Define data sensitivity (confidentiality, availability)
· Help the business to protect data in line with the following classification (process, task segregation, technological means)
· Define, and control the implementation of the processes for assigning and removing access rights
· Perform a regular review of the access rights and keep records
· Keep a list of generic accounts, and their policies (subject, password, etc.)
· Follow up with HR to robust staff entry / exit process
· Check on a regular basis with the relevant internal and suppliers teams the backup strategy
· Run the Business Continuity testing plans
· Coordinate all Cybersecurity tests (pen tests, attacks simulations, etc)
· Coordinate the review of the Security procedures taking into consideration all auditors and certification procedures
Who are we looking for?
· You have at least 5 years' experience
· You have a relevant experience in Cyber Security and has experienced security audits, security certifications, etc.
· You have good skills in project management
· You are fluent in English, in reading and writing
What do we offer you?
The Blauwtrust Groep is looking for top performers. Conversely, you can expect a lot from us. A pleasant, collegial culture with plenty of room for initiatives and many development opportunities. You will receive a complete and attractive package of employment conditions.
Are you interested in this position?
Are you the IT Security Officer we are looking for? Please mail your CV and Cover Letter.