Entreprise: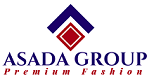 ASADA GROUP SARL
Secteur:
artisanat / textile / cuir
Taille:
Entre 100 et 200 employés
ASADA manufactures products that range from Casual / Citywear and Denim to Workwear clothing that provides protection for the wearer in the harshest conditions. ASADA also has modern-day expertise to manufacture Intelligent Clothing, adapting the latest in technological advances to be part of any label's everyday range. See below for more information.

Description de l'annonce:
In order to growing our team on project managing and ensuring our clients satisfaction, our clothing manufacturing company ASADA GROUP SARL is looking for highly diligent candidates with excellent attention to detail for the role of Project Manager. Project Managers are responsible for planning and overseeing projects to ensure they are completed in a timely fashion and within budget. Project managers plan and designate project resources, prepare costing, monitor progress, and keep stakeholders informed the entire way.
Job's Responsibilities:
· Leading project planning sessions
· Coordinating staff and internal resources
· Managing project progress and adapt work as required
· Ensuring projects meet deadlines
· Managing relationships with clients and stakeholders.
· Conducting project review and creating detailed reports for executive staff.
· Optimizing and improving processes and the overall approach where necessary.
· Securing growth opportunities and initiating new projects.
Profile:
· Degree in Textile and Confection or relevant field.
· Excellent attention to detail.
· Excellent verbal and written communication.
· Data analysis and statistical aptitude.
· Good interpersonal skills.
· Highly conscientious and diligent.