Entreprise: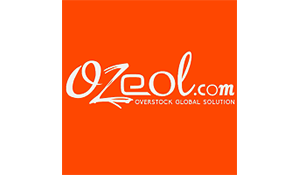 OZEOL.
Secteur:
commerce / vente / distribution
Taille:
Entre 200 et 500 employés
Avec de nombreuses années d'expérience dans le commerce international couvrant plus de 30 pays dans le monde entier, OZEOL est leader dans le sourcing et la facilitation des transactions entre fournisseurs et acheteurs à travers le monde pour la liquidation des stocks excédentaires de produits finis.

Rejoignez un environnement international privilégiant l'esprit d'équipe pour l'atteinte d'objectifs d'amélioration et de développement de l'entreprise et de ses collaborateurs.


Description de l'annonce:
We are an international commerce entreprise specialized in Destocking. We are based in Sousse since 12 years ago. We source , prospect and buy all types of products ( toys – shoes – textile – household linen- furniture etc) . We work mainly on the asian market and others under development to resell the overstocks purchased to our client which is based in France and that has more than 320 clearence stores with a launching frequency of 2 stores per month.
Other than our unit which is based in Sousse, Tunisia , we have 3 more units ; in Asia , Noth America and Latin America with a possibility of entension in the future .
We are looking to hire :
Main job of a coach:
-Define: goals and strategies to maximize energy, focus and engagement of the commercials
-Plan: Implement an action plan to evaluate, track and improve the performance of the commercials
-Coach: Help the commercials to develop their skills that allow them to reach their monthly goals
-Advise: Help commercials with the objections of the suppliers and find adequate solutions
-Develop: assess the commercials' need for skill, knowledge, and encourage potential development
-Motivate: Understand the underlying motivators of each commercial and make action to maximize it
Profile Requirements:
· A Graduate in management, international trade or equivalent training.
· Strong operational skills in coaching ; 3 to 5 years experience as sales coach/supervisor in a call center
· Excellent written and verbal English communication skills
· Ability to handle difficult situations and people in efficient and smooth manner
· Objective self-evaluation and self-reflection
· Ability to diagnose the apprentices' needs
· Ability to give an objective and motivating feedback
· Team management skills
· Ability to take in constructive criticism from participants and use it to improve
· Solid stress management skills and emotional management skills
· Ability to self-evaluate, knowing when to step back and having a strong self-leadership quality