Entreprise: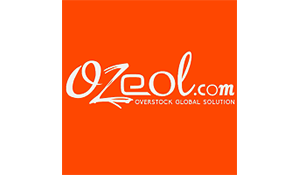 OZEOL.
Secteur:
commerce / vente / distribution
Taille:
Entre 200 et 500 employés
Avec de nombreuses années d'expérience dans le commerce international couvrant plus de 30 pays dans le monde entier, OZEOL est leader dans le sourcing et la facilitation des transactions entre fournisseurs et acheteurs à travers le monde pour la liquidation des stocks excédentaires de produits finis.

Rejoignez un environnement international privilégiant l'esprit d'équipe pour l'atteinte d'objectifs d'amélioration et de développement de l'entreprise et de ses collaborateurs.


Description de l'annonce:
With many years of experience in international trade covering more than 30 countries worldwide, OZEOL is the leader in sourcing and facilitating transactions between suppliers and buyers around the world for the liquidation of stocks and finished products. Categories include: men's and women's clothing, housewares, hardware, sporting goods, tables, toys and many other items.
Main Job of Recruitment Specialist:
· Receive, analyze and validate all the recruitment needs of the company's departments.
· Assist in identifying the nature of the position and prepare the candidate's profile (training, skills...).
· Sort the candidacy files (CV and motivation letter) and run the 1st selection by phone.
· Write and broadcast the offers according to the needs, the departments in question and according to the chosen means of communication.
· Prepare and set interviews to assess the knowledge and skills of selected candidates and run aptitude tests to examine their logic.
· Prepare descriptive and analytical debriefings about the interviews made and report back to upper management and to the departments in question about the reasons behind your choice of candidates.
· Ensure the reception of the newly recruited candidates and the follow-up of their integration phase.
· Prepare and assist in the recruitment days
· Broadcast the offers publicly while specifying the precise needs of recruitment: job fairs, specialized websites, professional fairs, campuses…
· Select the candidates over pertinent communication channels: directory, internet, newspapers…
· Ensure that the profile of the candidate matches the need of the company,
· Manage and direct group interviews.
· Maintain and manage a CV database by attending trade shows and recruitment job fairs.
Profile Requirements:
· Good ability to make fair judgment and evaluation.
· Good active listener and has excellent observation skills.
· Polyvalent and able to ensure the good functioning of the department.
· Perceptive and pedagogical.
· Excellent writing skills, capable of writing job ads, and the interview debriefings.
· Maintain efficient communication with candidates and collaborators.
· Organized, methodological, great at multi-tasking
· Dynamic and patient, handles stressful situation smoothly.
· Knowledge of desktop and necessary IT tools.
· Proficiency both in French and English.