Entreprise: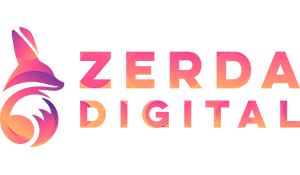 ZERDA DIGITAL
Secteur:
communication / publicité / média
Taille:
Moins de 20 employés
We are a full-service digital marketing agency. We help our customers (mainly internationals) generate more leads and sell more their products and services by enhancing their business' presence in the online world.

Resourceful mapping, digital sharpness and creative adaptability are what define Zerda Digital the most. We provide a wide range of digital marketing services such as:
Advising, consulting, audits, planning and coaching services.
Analytics, SEO, Ads, sales funnels, SM and emailing services.
UX/UI, Web design and development, 2D/3D animation and content marketing services.
Description de l'annonce:
We're looking for a smart, passionate designer that is motivated and open to learn and push his boundaries.
Our work might include Illustration , Branding , Prints , Marketing Collaterals , UI Design
and other creative assets.
We will expect from you to always push the boundaries of your skills and knowledge — and continuously improve yourself as a designer and professional because learning and keeping up with the latest techniques and trends is a priority in Zerda Digital's culture.
Responsibilities
Collaborate with the Team/Partners in Design sprints

Driven to investigate, innovate and develop trends

Work with partners to develop design solutions

Responsible for seeing the idea through the creative process to final sign off

Be able to ensure quality proofing & present concepts for approval

Create inspiring, strategic and innovative ideas for our projects
Skills/Requirements
Ability to organize and prioritize multiple projects in a (sometimes) crazed environment with unmovable timeframes

Must be a smart and inspired person that is passionate about their work.
Open and motivated to learn and scale with us.

Excellent communication skills

Detail oriented

Familiarity with wire framing, concept designs, UI design & Interactive design is a Plus.

Familiarity with a Design Complete Workflow & Design Systems is a Plus
Adobe Suite : Illustrator , Photoshop , InDesign.
Other : Microsoft PowerPoint , Keynote.
Knowledge of Interactive Prototyping (InVision , InVisionStudio or Figma) is a Plus.
Apply now if you believe you have what it takes to join a highly qualified team.