Entreprise: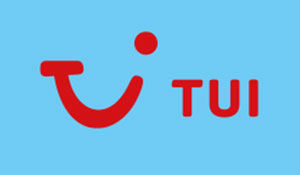 TUI
Secteur:
tourisme / hôtellerie / restauration / loisirs
Taille:
Plus de 500 employés
TUI Group is the world's number one tourism group operating in around 180 destinations worldwide. The company is domiciled in Germany. The TUI Group's share is listed in the FTSE 100 index, the leading index of the London Stock Exchange, and in the German open market. In financial year 2018, TUI Group recorded turnover of €19.5bn and an operating result of €1.147bn.

The Group employs 70,000 people in more than 100 countries. TUI offers its around 27 million customers, including 21 million in the national organisations in Europe, comprehensive services from a single source. It covers the entire tourism value chain under one roof. This comprises around 380 Group-owned hotels and resorts with premium brands such as RIU and Robinson as well as 16 cruise ships ranging from the MS Europa and MS Europa 2 luxury class vessels to the "Mein Schiff" fleet of TUI Cruises and the vessels of Marella Cruises in the UK. The Group also includes leading international tour operator brands, 1,600 travel agencies in Europe and five European leisure airlines with around 150 modern medium- and long-haul aircraft.

Global responsibility for sustainable economic, ecological and social activity is a key feature of our corporate culture. TUI Care Foundation was founded in 2015 and supports the positive impacts of tourism, learning and education and strengthening of environmental and social standards. It contributes to the development of holiday destinations. Today, the TUI Care Foundation is active in more than 20 countries worldwide and initiates projects creating opportunities for the next generation.

Description de l'annonce:
Join our TUI Musement Finance Team in Tunisia as Transactional Finance Manager and provide together with your team excellent transactional finance service and problem solution to global customers and internal partners within TUI, while leading, engaging and providing direction to the team.
HOW WILL YOU MAKE AN IMPACT
There are many ways for you to get involved:
Ensure day-to-day transactional finance tasks are completed efficiently and on time as a key objective and main responsibility of the Tunisian Finance Team
Build, develop and lead a team of direct reports by setting their tasks, priorities and objectives through effective communication
Support the implementation of globally aligned automated and manual process solutions
Address complaints, resolve issues and propose improvements for the business
Ensure compliance to all internal business processes
Support the Head of Finance Transformation to ensure necessary supervisory and line management duties of teams and individuals under your responsibility. This will include achieving people engagement objectives in addition to business-as-usual day-to-day management

WHAT WILL YOU BRING
There is more than one way to the perfect fit – here are some of the ideal things:
University degree in Accounting, Finance or Business and fully-qualified Chartered accountant (or equivalent).
Knowledge of international financial legislation and regulations such as GAAP and IFRS
Previous experience in a Shared Service Centre environment will be highly advantageous, whilst you should demonstrate the ability to identify and implement significant process improvements
Proven leadership capability with experience in managing a team and improving individual and team performance through feedback and coaching
Exceptional analytical, planning and administration/management skills
Travel industry knowledge is valuable as well as experience dealing with ambiguity within a global and multinational environment.
High level of attention to detail with the ability to manage multiple tasks with the team assigned without losing focus on planning ahead
Excellent written and verbal communication skills, both in German and English
Working knowledge of SAP
Proficient in MS Outlook, MS Word MS Excel and MS Powerpoint; MS Visio experience preferred
TUI AND YOU
Become a valued team member of TUI, the No.1 global and socially aware travel company
Competitive salary, annual bonus scheme and benefits for both flexible and locally contracted employees
TUI Musement operate in 115 destinations offering more career opportunities than any other travel company
Develop yourself by working as part of an international team and through our free global learning and development programme including free language lessons and various Management Development Programmes
Discount on TUI shares after six months' employment
Exclusive excursion, hospitality and accommodation discounts
TUI Musement is a leading Tours & Activities business. It combines a scalable digital platform with local service delivery, to offer excursions, activities, tickets and transfers in more than 50 countries worldwide. There are over 130,000 'things to do' in all major holiday and city destinations, which are distributed through B2B partners, via the Musement and TUI websites and direct to TUI customers. We also offer services to cruise lines through Intercruises Shoreside & Port Services in ports worldwide. TUI Musement sold around 10 million excursions, tours and activities delivered by our international colleagues located around the world and is one of the major growth areas of TUI Group.
In 2018, TUI's Tours & Activities division acquired Musement, a leading traveltech start-up. Following a two-year transition period, both became one fully integrated business - known as TUI Musement - combining the global reach, strong resources and high quality in-destination service delivery of TUI, with the digital capabilities, agile working methodology and start-up mindset of Musement.