Entreprise: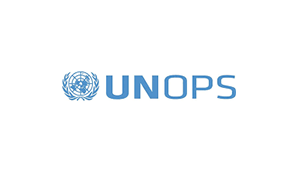 UNOPS
Secteur:
autres
Taille:
Entre 20 et 100 employés
The United Nations Office for Project Services (UNOPS) supports the successful implementation of its partners' peacebuilding, humanitarian and development projects around the world. Our mission is to serve people in need by expanding the ability of the United Nations, governments and other partners to manage projects, infrastructure and procurement in a sustainable and efficient manner. Working in some of the world's most challenging environments, our vision is to advance sustainable implementation practices, always satisfying or surpassing our partners' expectations. With over 7,000 personnel spread across 80 countries, UNOPS offers its partners the logistical, technical and management knowledge they need, wherever they need it. A flexible structure and global reach means that we can quickly respond to our partners' needs, while offering the benefits of economies of scale. For further information, please visit unops.org.
UNOPS is committed to fostering an organisational culture of ethics and a harmonious and inclusive work environment, anchored in the values of integrity, accountability, transparency, respect and professionalism. Operating at the highest integrity standards called in the Charter of the United Nationas the Ethics and Compliance design and implement creative and solutions to complex issues.
Description de l'annonce:
Qualified female candidates are strongly encouraged to apply.
Please note that only applications on the UNOPS website will be considered and the position concerns only Tunisian candidates, or residents in Tunisia.

Under the direct supervision of the project manager, the Senior Associate will be the assistant to the project manager and would normally follow one or more UNOPS The project manager, the below duties and responsibilities of the project success criteria:
Stakeholder Management:
Contribute to establish solid working relationship with the project board (Executive, Senior Users and Senior Suppliers), client and key stakeholders

Assist project manager to advise the client on issues that may impact the achievement of their outcomes (including issues of sustainability and post project requirements such as maintenance)
Delivery and Performance:
Assist project manager to develop and maintain project plans

Contribute to Implement approved project plans

Assist project manager to manage and review product quality and ensure products are accepted

Particip to Monitor and evaluate performance of service providers
Procedures:
Contribute to the preparation of the following reports: Highlight Reports, End Stage Reports, Operational Closure Checklist, End Project Report, Handover Report

Maintain the following: i. Electronic Blue File; ii. Procurement, HR and Finance files as required by those practices as per OD12.

Particip to ensure that all expenditures comply with UNOPS Financial Rules and Regulations (FRR).
Knowledge Management:
Provide feedback to Practice Leads on policy, supporting guidance with an aim towards continuous improvement of UNOPS policies

Complete lessons learned as per reporting format

Incorporate lessons learned from others as per planning format
Core Values and Principles:
Understand and respect UNOPS sustainability principles

Understand and Respect National ownership and capacity

Partnerships and Coordination

Accountability for results and the use of resources