Entreprise: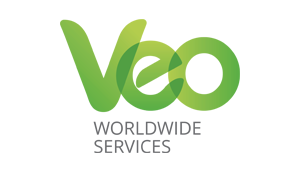 VEO WORLDWIDE SERVICES
Secteur:
consulting / étude / stratégie
Taille:
Plus de 500 employés
VEO Worldwide Services is a very diverse B2B services provider that has been operating in Eastern Europe for 11 years. VEO is neither an accounting company, nor a call center or a commercial company. Any B2B service you can think of, VEO is probably doing it, or is planning to do it in the next couple of years. And if not, we would be ready to do it in 6 months from now, as we have proved in multiple occasions.
We have a huge knowledge base, built in 11 years of VEO in CEE. It's here for you to use it. All you need is the will to succeed. We can't help with that, but with all the rest... yes. we can!
In these years, we could have stayed a small team or grown at a limited pace. Instead, VEO is today a group of companies with over 800 employees, and it's all because many people here had the courage to think big and act bold in the pursuit of what others would consider unrealistic ambitions. It is what we expect from everyone that joins the company. You really can be our next success story. VEO is growing continuously and the primary resource of growth has been and always will be our people.
Description de l'annonce:
Responsibilities:
– Writing code in ABAP according to the specifications/instructions;
– Analyze the requests received in order to find the best technical solutions according to the users needs;
– Perform configuration for the application, solve issues and does the necessary tests in order to implement in production;
– Manages, in collaboration with the production department the application, and draw/write the necessary documentation for assistance and the training for the new users (Tutorials);
– Solve problems and ensures support for the SAP applications;
– Test and validate the functionality of solutions designed
Requirements for training : Availability to go in France and Romania between 2-3 months for trainings from the first day of working.
The ideal candidate:
We are looking for our future office/quarter from Sousse an ABAP Developer. If you have the desire to develop yourself, team spirit and a high level of adaptability? Then, join our IT team.
In order to have success on this mission the requirements are:
– 1-2 years of experience in ABAP development & writing code
– Knowledge at least of one of the functional modules in SAP : MM, FI, CO, SD;
– Ability to program the SAP application and its parameters;
– Knowledge of French on advanced level
– Knowledge of English at least minimum B1
– Ability to understand user requirements and responsability;
– Ability to comply with the specification and to analyze the data;
Benefits:
– Training at an international level in a multinational company;
– Real career development opportunities in an dynamic and successful environment;
– Attractive salary package.