Entreprise: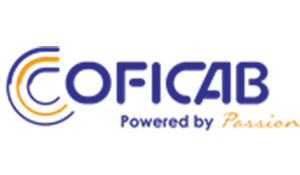 COFICAB
Secteur:
industrie électro-mécaniques
Taille:
Plus de 500 employés
About us
COFICAB is a best-in-class world leader in the manufacturing and sales of automotive cables and wires. The company is a member of the Tunisian multinational industrial group, ELLOUMI Group, founded in 1946. COFICAB Group's footprint expands over 11 countries all over the world. The group is number 1 worldwide in its capacity as a tier 2 supplier to most of the big players in the automotive industry.
Our locations are:
Tunisia: Tow Manufacturing Sites in Tunis and in Medjez El Beb, Center of Excellence in Medjez El Beb, Advanced Delivery Center in Sousse
Morocco: Tow Manufacturing Sites in Tangier and in Kenitra, Advanced Delivery Center in Tangier
Deutschland: Sales Office in Nuremberg
Portugal: Manufacturing Site in Guarda, Center of Excellence in Guarda Romania: Tow Manufacturing Sites in Arad and in Ploiesti
Serbia: Manufacturing Site in Belgrade
Macedonia: Advanced Delivery Center in Kavadarci
China: Manufacturing Site in Tianjin, Advanced Delivery Center in Shanghai
USA: Sales Office in El Paso, Advanced Delivery Center in El Paso
Mexico: Tow Manufacturing Sites in Durango and in Leon, Center of Excellence in Durango
Honduras: Advanced Delivery Center in San Pedro Sula
COFICAB prides itself on its focus and investment in innovation and excellent service to its customers. It also prides itself on its most valuable resource: its People. COFICAB employs over 3000 people worldwide. We excel at finding and continuously developing outstanding talent.
Description de l'annonce:
job purpose
Conducts continous improvement projects and provides a proactive and effective support to quality and production departments to meet plant objectives. Contributes to the industrialization of new products (at plan level). Oversees tooling management activities such as maintaining tools inventory, identifying tooling needs, performing incoming inspections, and delivering timely requested tools for production in line with defined policies, procedures and rules while optimizing tools consumption.
Job Accountabilities
Collects timely production data required for copper and masterbatch overconsumption calculation, verifies data reliability, calculates overconsumption rates according to predefined rules. Analyses results and undertakes a root causes analysis in case of discreapency and proposes accordingly improvement action plan to adjust tools, parameters and methods to close the gap.
Reviews overall industrial performance results focused on production and quality performance (TRO, Scrap Rate, Running Time, etc.), analyzes industrial non-performance root causes in cooperation with quality and production departments and contributes to the developement of improvement action plans (Problem solving)
Undertakes, following continous improvement & products industrialization projects, updates of products technical specifications documents, work instructions, visual aids, PFMEA and other revelant technical documents and datasheets impro project or indus project. Performs accordingly timely update of recipes of Bunching, Rod drawing, Multidrawing, Extrusion, NPS and Rewinding processes.
Undertakes process parameters verification and calibration such as debit tests, testing and calibration of plasticolor, verification of barrel and extrusion screw, bunching payoff calibration, etc. and takes accordingly adequate actions. contributes to the validation of new equipements or upgrades.
Oversees the preparation, control, adjustment and follow up of emulsion(Concentration, PH, Conductivity) and treated water (Osmosis, softening) status
Develops technical specifications of production tooling & consumables, defines tooling needs, performs qualitative and quantitatives reception of production tools & consumables. Implements corrective and preventive actions plans to prevent damage, loss and tooling & consumable cost
Prepares, communicates and reviews Industrial performance KPI's and proposes accordingly continuous improvement plans of processes, procedures and systems to meet the Department and the Company's objectives.