Entreprise: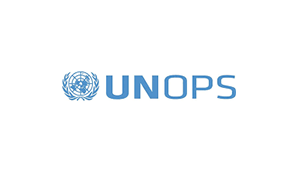 UNOPS
Secteur:
autres
Taille:
Entre 20 et 100 employés
The United Nations Office for Project Services (UNOPS) supports the successful implementation of its partners' peacebuilding, humanitarian and development projects around the world. Our mission is to serve people in need by expanding the ability of the United Nations, governments and other partners to manage projects, infrastructure and procurement in a sustainable and efficient manner. Working in some of the world's most challenging environments, our vision is to advance sustainable implementation practices, always satisfying or surpassing our partners' expectations. With over 7,000 personnel spread across 80 countries, UNOPS offers its partners the logistical, technical and management knowledge they need, wherever they need it. A flexible structure and global reach means that we can quickly respond to our partners' needs, while offering the benefits of economies of scale. For further information, please visit unops.org.
UNOPS is committed to fostering an organisational culture of ethics and a harmonious and inclusive work environment, anchored in the values of integrity, accountability, transparency, respect and professionalism. Operating at the highest integrity standards called in the Charter of the United Nationas the Ethics and Compliance design and implement creative and solutions to complex issues.
Description de l'annonce:
The Partnerships intern will work in the sub-regional office based in Tunisia (TNPO) and will report to the country manager. He / She will support the Partnerships Unit by conducting research on donors and market trends, supporting the implementation of the Communications Plan in order to increase the visibility of UNOPS in the sub-region by communicating on our results and activities, and by providing administrative support to the development and finalization of project documents, including but not limited to project descriptions, budgets, legal accords, gender action plans, and risk registers.

Education


To be eligible the applicants must be pursuing a university degree such as a Bachelors, Masters or a PhD in Political Science, International Relations, Development Studies, Project Management, Communications, Business Administration, Marketing or other relevant areas or be a recent graduate from such studies (within the last 3 years)

Language

Fluency in French and English (written and spoken) is required
Knowledge of Arabic is an asset

Computer Literacy

Knowledge of G Suite is an asset but not required

Experience

While no prior work experience is required the following experience is highly desirable some professional experience is desirable either in the private or public sector, in areas such as:

Management
Research
Project Management
Proposal and project development
Data analysis
Marketing
Consulting
Partnership Development
Resource Mobilization
Qualified women are strongly encouraged to apply.
Only selected candidates will be contacted.
NB: Please note that only applications on the UNOPS website will be considered.